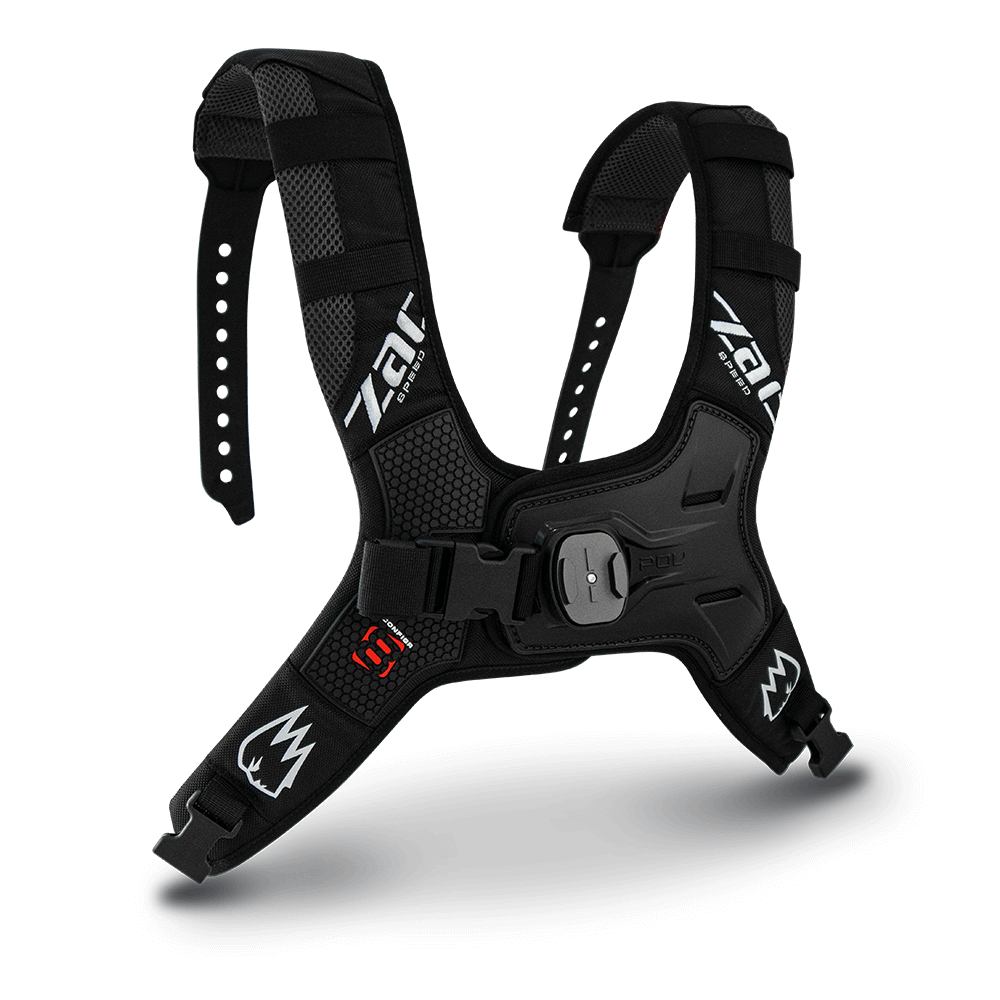 Regular price
$65.95 AUD
/
Tax included.
---
Low stock - 8 items left

Inventory on the way
The POV harness is the ultimate integration of wearable video camera mounts utilizing a backpack harness system. The POV harness easily integrates with any CONFIGR8 pack system via the unique ladder lock system, allowing you to catch hours of video footage without the need for any additional straps or mounts. Simply attach the camera to the universal camera mount, turn it on and launch. No more mucking around, the chest mount is easily accessible for set up and offers one of the most immersive perspectives for action sport footage.
When you're done taking footage you can remove the POV harness and interchange it with any other CONFIGR8 system, or simply revert back to a standard configuration backpack, in less than a minute. The universal design of the POV mount allows for an endless range of options. The flexible nature of the design is only limited by your imagination; if riding trails at night, planned or otherwise, the mount is easily adapted to allow the use of lighting systems.
*alloy mount plate included
*not compatible with older V.2 backpacks.
Use collapsible tabs for more detailed information that will help customers make a purchasing decision.
Ex: Shipping and return policies, size guides, and other common questions.
Australian Shipping Details

** Free shipping Australia wide on orders over $100
How long will my order take to arrive?
Product purchased from Zac Speed store is shipped by Star Track and can take up to 3-7 working days dependent on what part of the country you live. If you cannot be assured you will be at the advised delivery address it is recommended that you either ship to an address where the product can be signed for such as a work address or consider "Authority to Leave" request. In which case if you are not home the driver will leave the shipment conveniently at your door. Alternatively you will need to follow the missed delivery instructions for either Depot or Post office pick up. It is your responsibility to collect the shipment one the parcel has left the Couriers possession.
What is the return/refund policy for a website purchase?
We have a 100% satisfaction policy. If for some reason you are not satisfied with a shipped order (does not fit correctly, not as described, faulty, just not happy etc), please contact us at info@zacspeed.com with your reason for return. We have a 14 day (from date of receipt) return policy for product that has been shipped from the Zac Speed online store. If you purchased your product from a retailer please return it to the point of purchase. Product returned to Zac Speed is shipped at the cost of the return sender. The value reimbursed to the purchaser is the cost of the product being returned only. Goods must be returned in their original condition, with all tags and labels attached. Goods may be tried on for fit but must be otherwise unworn. Goods must be returned unsoiled or undamaged and must include the original receipt.
Who assumes the cost and risk of returned items?
In all cases, you are responsible for ensuring that the goods arrive at our dispatch location safely. Note down tracking numbers of goods sent to ZAC SPEED. We do not accept responsibility for goods that fail to arrive in their original condition. For this reason we encourage you to insure the goods against loss or damage while in transit. You must also pay for the cost of returning the goods unless we deem them to be faulty or not as described, in which case we will credit you for the cost of returning the goods.
How long will a return take to be processed?
Returns will be processed within 1-5 working days of receiving the goods at the point of dispatch. You will be notified by email once refunds have been processed.
What is the policy for transfer of property in the goods?
Property of the goods is passed to you as soon as they are dispatched from our warehouse.
My shipment has not turned up. What do I do?
Contact us at info@zacspeed.com if you have not received your product after 10 working days from the time you placed your order.
Payment and Pricing
Zac Speed uses PayPal as the merchant system for all transactions. All Australian pricing includes GST
Shipping Policy

Forced Majeure
Zac Speed PTY LTD will not be liable for any delay/s in performing any of its obligations under these Purchase Terms caused by circumstances beyond the reasonable control of Zac Speed Pty Ltd, including but not limited to, natural disasters, war, acts of terrorism, industrial strikes, breakdowns or failures, or any other events that disrupt the processing of orders. Zac Speed shall be entitled to a reasonable extension of time in order to perform its obligations under these Purchase Terms.
WARRANTY POLICY
Zac Speed provides Limited lifetime warranty coverage for its backpacks and accessory products to the original purchaser. The limited lifetime warranty covers defects in materials, design or workmanship. We do NOT cover products that no longer work due to wear and tear. Wear and tear is damage that inevitably and naturally occurs as a result of normal use. Moving parts will wear out, fabric and rubber components will deteriorate and fade over time when subject to the elements.
WHAT IS COVERED
Zac Speed will repair or replace, at their option, items that are defective. If an item is repaired, the parts and labor are covered by Zac Speed. Ground shipping charges within Australia to send repaired or replaced products to the purchaser are covered. Repair or replacement as provided in this warranty is your exclusive remedy.
WHAT IS NOT COVERED
Zac Speed does not warrant any product, which is damaged from abuse, lack of maintenance or is not used for its intended purpose. Damage caused by improper use or improper installation is not a defect; therefore repair or replacement of a damaged product will not be covered under this warranty. Shipping charges required to send a defective product to Zac Speed are not covered. Sales outside of Australia and any other expenses are not covered. If Zac Speed Australia determines your product has exceeded its lifetime and deems the product ineligible for warranty repair or replacement we will contact you to discuss available options. For USA and Canadian customers please contact Zac Speed distributor in your country on the customer service contact listed below.
PURCHASE REPLACEMENT PARTS
A Zac Speed commitment to our customers is to keep your product serviceable and in good working order for as long as possible. Inevitably some elements of a product naturally wear out before others, to keep your product functioning for as long as possible Zac Speed offers a range of replacement parts for the purpose of product maintenance or feature upgrade.  Please refer to our spares parts list.
https://www.zacspeed.com.au/product-category/accessories/spare-parts/
For Customer service & Warranty Support please contact:
AUSTRALIA
Zac Speed

PO Box 580
Mentone Victoria 3194
Australia
info@zacspeed.com